Overhaul of the ferry Mjølner-Fur
The Mjølner-Fur Ferry is one of the most trusted and renowned ferries that sails daily between Branden and Stenøre on Fur. The ferry has been a significant part of the maritime sector for many years and has served the local community and tourists with its reliable and safe service.
But like any other machine that is used extensively, the ferry requires regular maintenance to remain in top shape. Therefore, they decided to take the ferry to the dock to have both thrusters overhauled, which are crucial for the ferry's propulsion and maneuvering abilities.
Our dedicated service technicians were dispatched to the ferry to remove the two thrusters and bring them back to our workshop in Esbjerg. Here, both thrusters underwent a thorough overhaul, with bearings, oil filters, and gaskets being replaced and upgraded.
After the overhaul was completed, both thrusters were reinstalled on the ferry, and in this process, our technicians also performed the balancing of 4 propeller shafts. This ensured that the ferry would have smoother sailing and improved stability in the future.
Now, the Mjølner-Fur Ferry is sailing again with the same strength and safety as when it was first built. The ferry has been given a new lease on life and is ready to serve the local community and tourists for many years to come. West-Marine is proud to have been a part of this process and happy to have contributed to ensuring that the Mjølner-Fur Ferry remains a significant part of the maritime sector.
See pictures of the work on the ferry: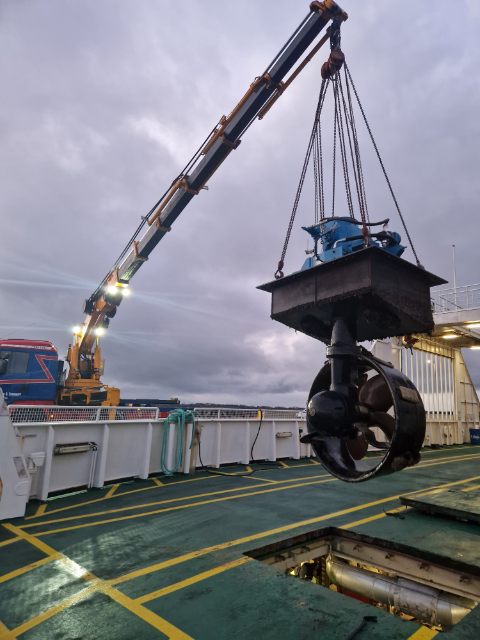 Har du lyst til at læse om flere arbejdsopgaver, der er udført af West-Marine? Så kan du altid trykke her og blive opdateret de seneste projekter og nyheder. 
If you yourself are looking for help to fix your boat or ship, you can contact our service department by writing to sales@west-marine.dk or calling our main number +45 75 45 70 44. Our service team is ready to move out – anytime and anywhere – because if the damage has occurred, it must be able to be fixed as soon as possible. West-Marine's technicians work around the clock to operate and service everything from domestic ferries and large ships. They are experts in thruster overhaul and general service solutions.