High precision and optimal safety for more than 30-years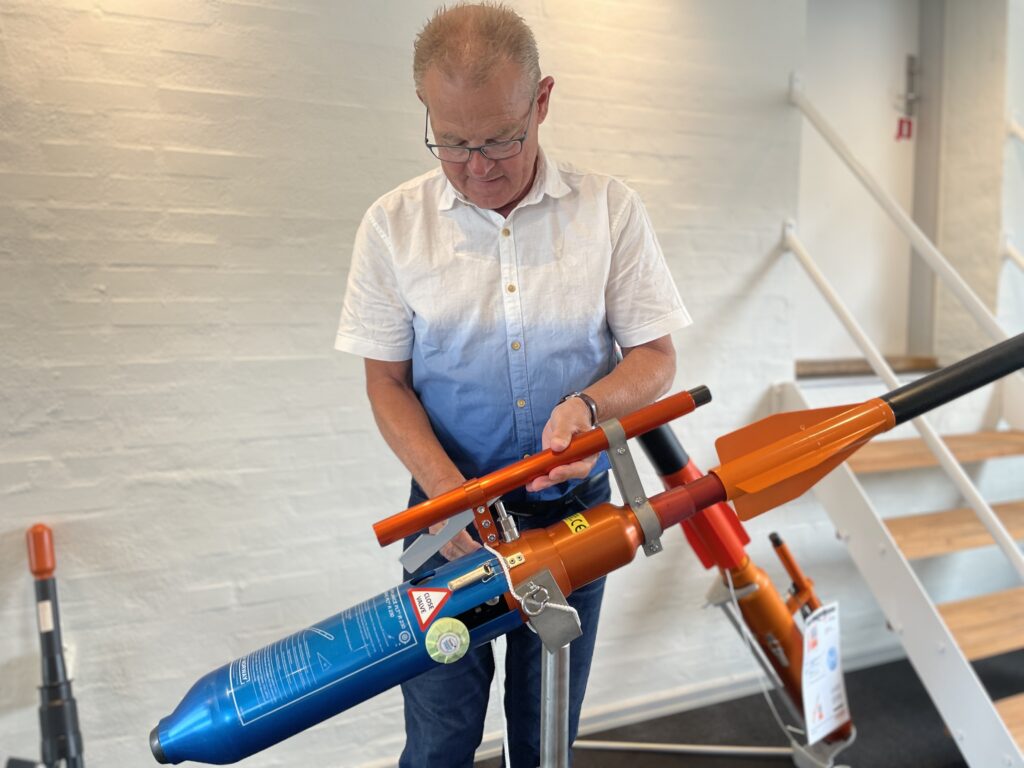 Since 1992, West-Marine A/S has been a distributor of the innovative pneumatic line throwers from Norwegian Restech, known worldwide for their accuracy and efficiency.
In 1989, the company Restech was established, and they had a mission to make a greener and cheaper solution for the existing line throwers. They invented the PLT line thrower, which is a registered trademark. With this type of line thrower, the line is fired using compressed air, which minimizes the risk of personal injury. The projectiles are reusable, and most ships have a compressor on board that makes the air cartridges easier and faster to refill.
Back in the day, the common line throwers on the market were gunpowder-based, which posed a potential major safety risk. The problem with the gunpowder-based line throwers is that they were only usable once and thus become much more expensive over time.
Agency on Restech since 1992
The Esbjerg company West-Marine caught the eye of the revolutionary Restech product in 1992 and then became a Danish distributor of the pneumatic line throwers (PLT).
"It was not a difficult decision to say yes to Restech. They make high quality products and their line casters are sold in extremely large numbers all over the world. The precision and safety of their line throwers is also absolutely amazing," says CCO, Evan G. Nielsen, at West-Marine and continues.
"We have many customers who are extremely happy with the line throwers and they especially emphasize the high precision and long life. Other line throwers may have less precision and a limited lifespan, where the Restech line throwers with authorized service can live as long as the ship," says Evan G. Nielsen.
West-Marine can now celebrate its 30th anniversary as a dealer and certified and authorized service workshop of Restech linecasters.
Several larger ferries, harbors and SOVs around the country have already acquired a line thrower from Restech.
"There are more inquiries from onshore companies who can also see opportunities in the line thrower, and of course we are very happy about that. We stand with the best product on the market when we measure quality, precision and durability, so it makes good sense that more people are looking that way," elaborates Evan G. Nielsen.
A Restech line thrower is available in three sizes, where the largest multi-functional model can shoot a line 230 meters out, where the other models can shoot 150 and 75 meters respectively.