30-years anniversary at West-Marine A/S
We would like to congratulate our skilled and experienced CFO/CCO, Evan G. Nielsen, with his 30-years anniversary. He started back in 1992 and is now a cornerstone in West-Marine. We hope that he can take 30 years more.
Please notice that Evan's smile hasn't become smaller over the years. The white tennis socks has been replaced with a dark turtleneck.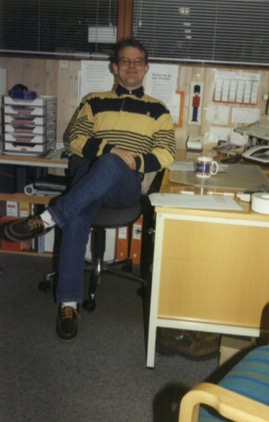 Would you like to read about more work done by West-Marine? Then you can always press here and be updated on the latest projects and news.
If you yourself are looking for help to fix your boat or ship, you can contact our service department by writing to sales@west-marine.dk or calling our main number +45 75 45 70 44. Our service team is ready to move out – anytime and anywhere – because if the damage has occurred, it must be able to be fixed as soon as possible. West-Marine's technicians work around the clock to operate and service everything from domestic ferries and large ships. They are experts in thruster overhaul and general service solutions.